The financial benefits of buying a home versus renting one are always up for debate. However, one element of the equation is often ignored – the ability to build wealth as a homeowner.
According to the latest research from the National Association of Realtors (NAR):
"Homeownership is a key pathway to building wealth and narrowing the racial income and wealth inequality gap. Housing wealth (equity) accumulation takes time and is built up by price appreciation and paying off the mortgage."
An increase in equity builds the wealth of the individual that owns it. This wealth can be passed down to future generations. The Federal Reserve in an addendum to their Survey of Consumer Finances explains:
"There are numerous ways families can transmit wealth and resources across generations. Families can directly transfer their wealth to the next generation in the form of a bequest. They can also provide the next generation with inter vivos transfers (gifts), for example, providing down payment support to enable a home purchase or a substantial wedding gift."
The Federal Reserve also explains another way wealth (including the additional net worth generated by an increase in home equity) can benefit future generations:
"In addition to direct transfers or gifts, families can make investments in their children that indirectly increase their wealth. For example, families can invest in their children's educational success by paying for college or private schools, which can in turn increase their children's ability to accumulate wealth."
Here's a look at how equity can build your wealth over time when you own a home.
Equity over the Last 30 Years
The NAR research reveals that the average gain for homeowners over the last five years was $139,134 and over the last 10 years was $218,505. Looking even further back in time, the article says:
"Homeowners who purchased a typical single-family existing-home 30 years ago at the median sales price of $103,333 with a 10% down payment loan and who sold the property at the median sales price of $357,700 in 2021 Q2 accumulated housing wealth of $349,258."
Homeownership builds household wealth which also enables households to more easily move to the home of their dreams. As Mark Fleming, the Chief Economist at First American, explains:
"As homeowners gain equity in their homes, they are more likely to consider using that equity to purchase a larger or more attractive home – the wealth effect of rising equity."
If you missed out on the equity gains over the last 30 years, don't fret. Experts are still calling for substantial growth in equity over the next five years.
Looking Forward at the Equity To Come
The most recent Home Price Expectation Survey, a survey of over one hundred economists, real estate experts, and investment and market strategists, expects home values (and therefore equity) to increase as follows:
2021: 11.74%
2022: 5.82%
2023: 3.94%
2024: 3.56%
2025: 3.55%
The survey estimates a 31.8% cumulative appreciation over the next five years. Using their annual projections, the graph below shows the equity build-up a purchaser could earn, using a $350,000 home as an example:
That's a potential increase in household wealth of $111,285 over five years.
Bottom Line
Owning a home is one of the best ways to grow your wealth over time. House wealth can impact generations. In many cases, the largest single investment a household has is their home. As that investment appreciates in value, the financial options also increase.
Is Owning a Home Still the American Dream for Younger Buyers?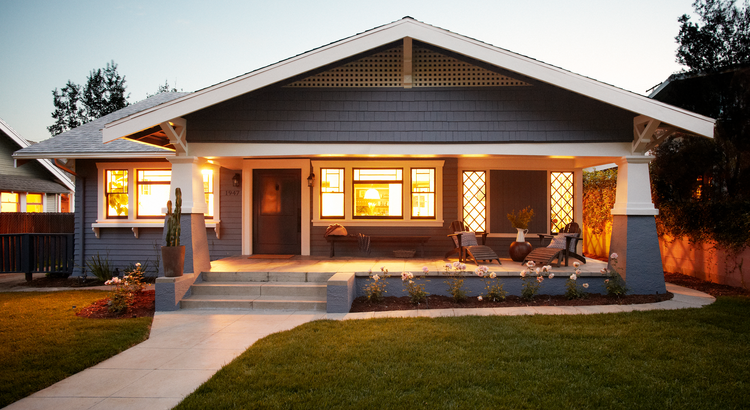 Everyone has their own idea of the American Dream, and it's different for each person. But, in a recent survey by Bankrate, people were asked about the achievements they believe represent the American Dream the most. The answers show that owning a home still claims the #1 spot for many Americans today (see graph below):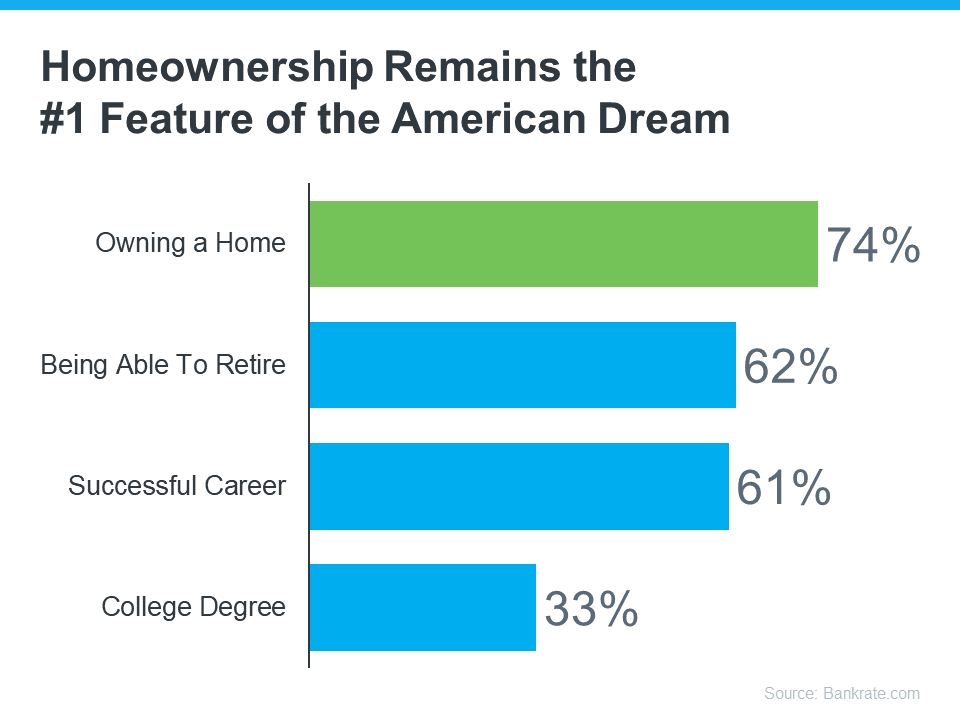 In fact, according to the graph, owning a home is more important to people than retiring, having a successful career, or even getting a college degree. But is the dream of homeownership still alive for younger generations?
A recent survey by 1000watt dives into how the two generations many people believed would be the renter generations (Gen Z and millennials) feel about homeownership. Specifically, it asks if they want to buy a home in the future. The resounding answer is yes (see graph below):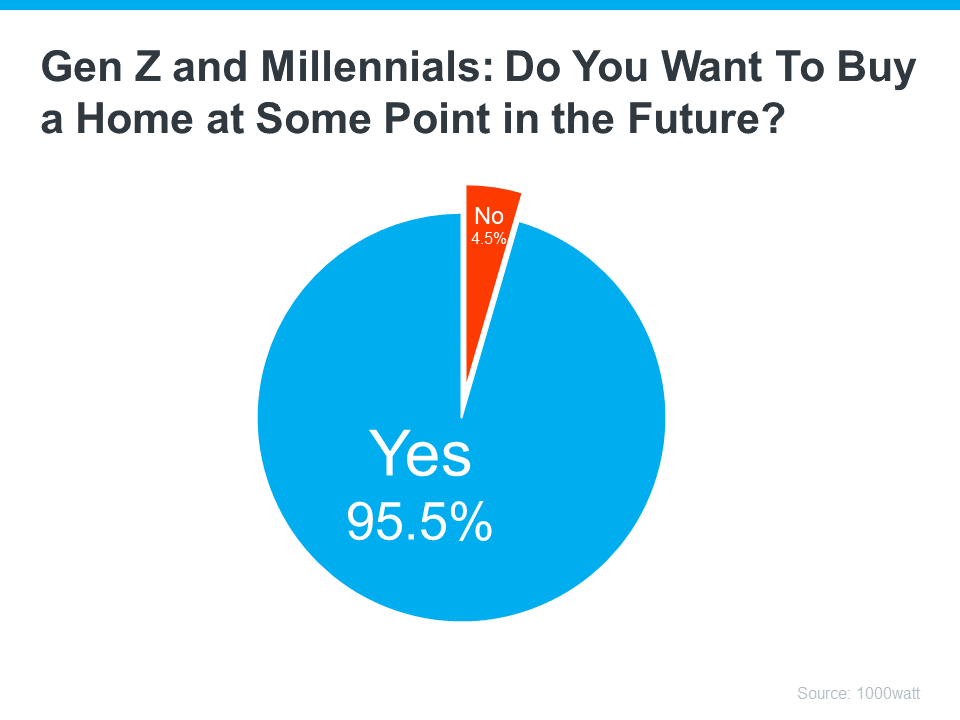 While there are plenty of reasons why someone might prefer homeownership to renting, the same 1000watt survey shows, that for 63% of Gen Z and millennials, it's that your place doesn't feel like "home" unless you own it – maybe you feel the same way.
That emotional draw is further emphasized when you look at the reasons why Gen Z and millennials want to become homeowners. For all the financial benefits homeownership provides, in most cases it's about the lifestyle or emotional benefits (see graph below):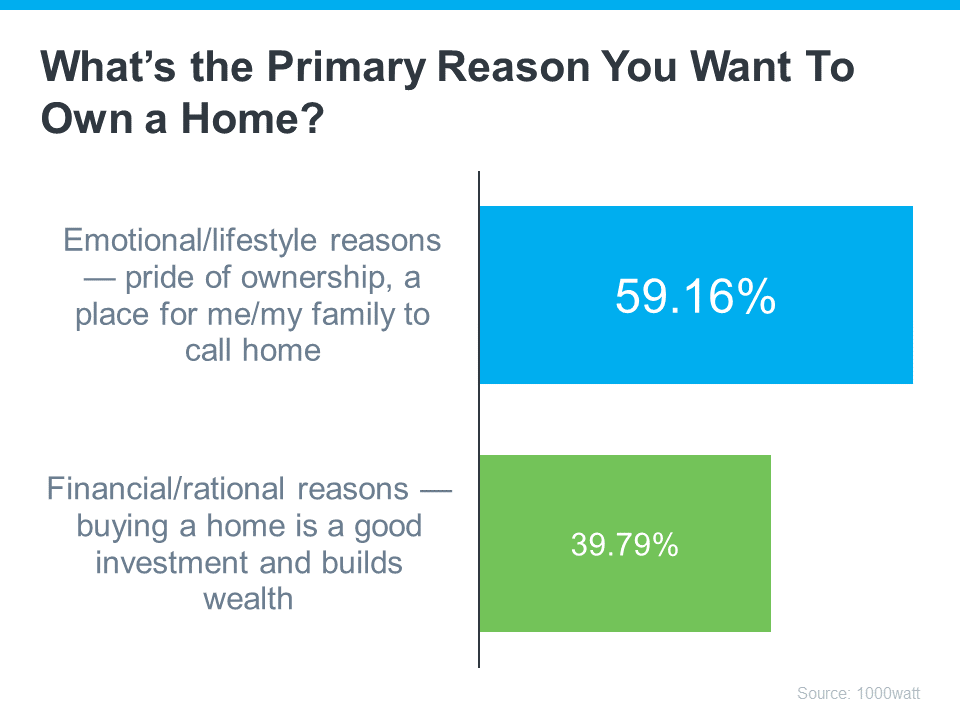 What Does This Mean for You?
If you're a part of Gen Z or are a millennial and you're ready, willing, and able to buy a home, you'll want a great real estate agent by your side. Their experience and expertise in the local housing market will help you overcome today's high mortgage rates, low inventory, and rising home prices to find your first home and turn your dream into a reality.
Working with a local real estate agent to find your dream home is the key to unlocking the American Dream.
Bottom Line
Buying a home is a big, important decision that represents the heart of the American Dream. If you want to accomplish your goal, begin by talking to a local real estate expert to start the process today.
Are The Top 3 Housing Market Questions on Your Mind?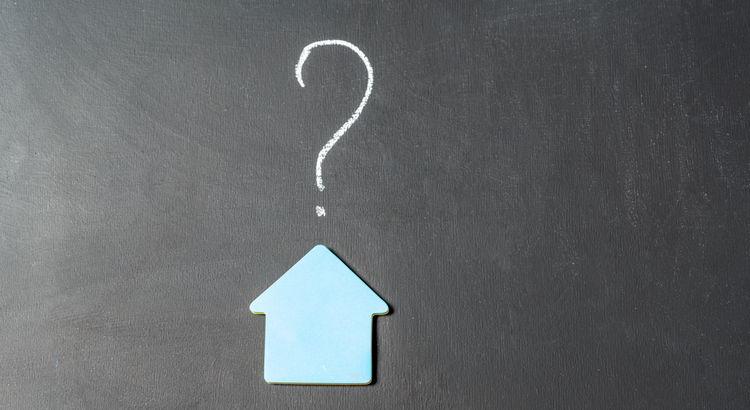 When it comes to what's happening in the housing market, there's a lot of confusion going around right now. You may hear one thing in conversation with your friends, see something totally different on the news, and read something on social media that contradicts both of those thoughts. And, if you're thinking about making a move, that can leave you with a lot of lingering questions. That's where a trusted local real estate agent comes in.
Here are the top 3 questions people are asking about today's housing market, and the data to help answer them.
1. What's Next for Mortgage Rates?
Mortgage rates are higher than they've been in recent years. And, if you're looking to buy a home, that impacts how much you can afford. That's why so many buyers want to know what's ahead for mortgage rates. The answer to that question is: no one can say for certain, but here's what we know based on historical trends.
There's a long-standing relationship between mortgage rates and inflation. Basically, when inflation is high, mortgage rates tend to follow suit. Over the past year, inflation was up, so mortgage rates were as well. But inflation is easing now. And this is why the Federal Reserve has recently paused their federal funds rate hikes, which means many experts believe mortgage rates will begin to come down.
And in some ways, we've started to see hints of slightly lower mortgage rates in recent weeks. But it's certainly been volatile and will likely continue to be that way going into next year. Some ongoing variation is to be expected, but the anticipation is, that in 2024, we'll see a downward trend. As Aziz Sunderji, Strategist at Home Economics, says:
"The bottom line is that interest rates are likely to be lower-perhaps even lower than many optimists think – in the weeks and months to come."
2. Where Are Home Prices Headed?
While there's been a lot of concern prices would come crashing down this year, data shows that didn't happen. In fact, home prices are rising in most of the nation. Experts say that trend will continue, just at a slower pace that's much more normal for the housing market – and that's a good thing.
To help show just how confident experts are in this continued appreciation, take a look at the Home Price Expectation Survey from Pulsenomics. It's a survey of a national panel of over 100 economists, real estate experts, and investment and market strategists. As the graph below shows, the consensus is, that prices will keep climbing next year, and in the years to come.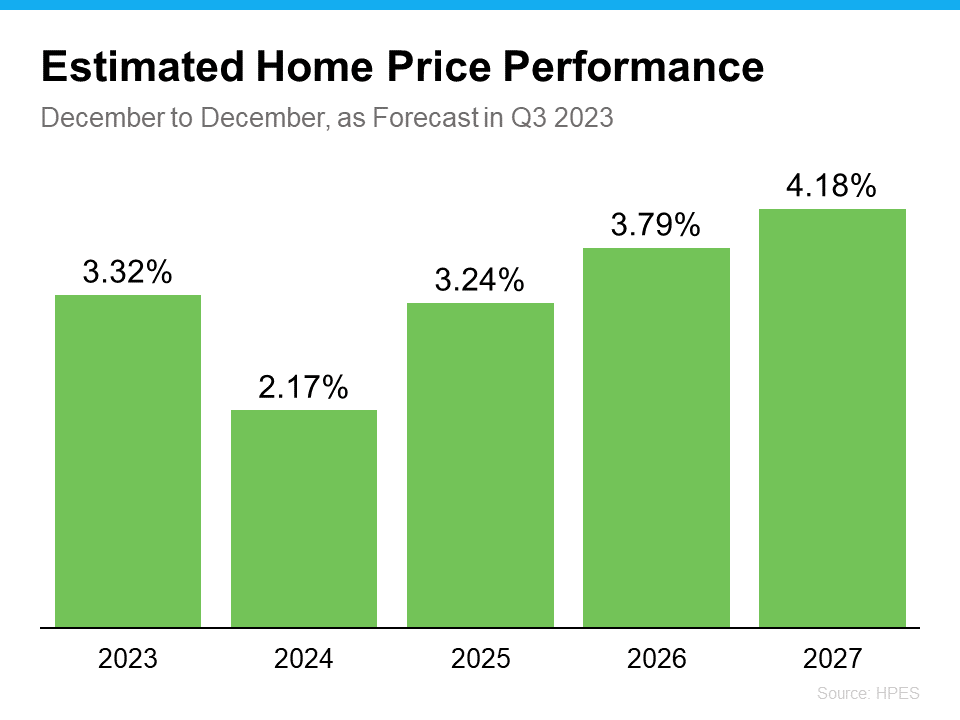 3. Is a Recession Around the Corner?
While recession talk has been a common thing over the past few years, there's good news on that front.
The Wall Street Journal (WSJ) polls experts on this topic regularly. And last year at this time, most of them thought a recession would have happened by now. But as experts look at all the leading indicators today, they're changing their minds and saying a recession is getting less and less likely. The latest results show that more experts now think we're not headed for another recession (see chart below):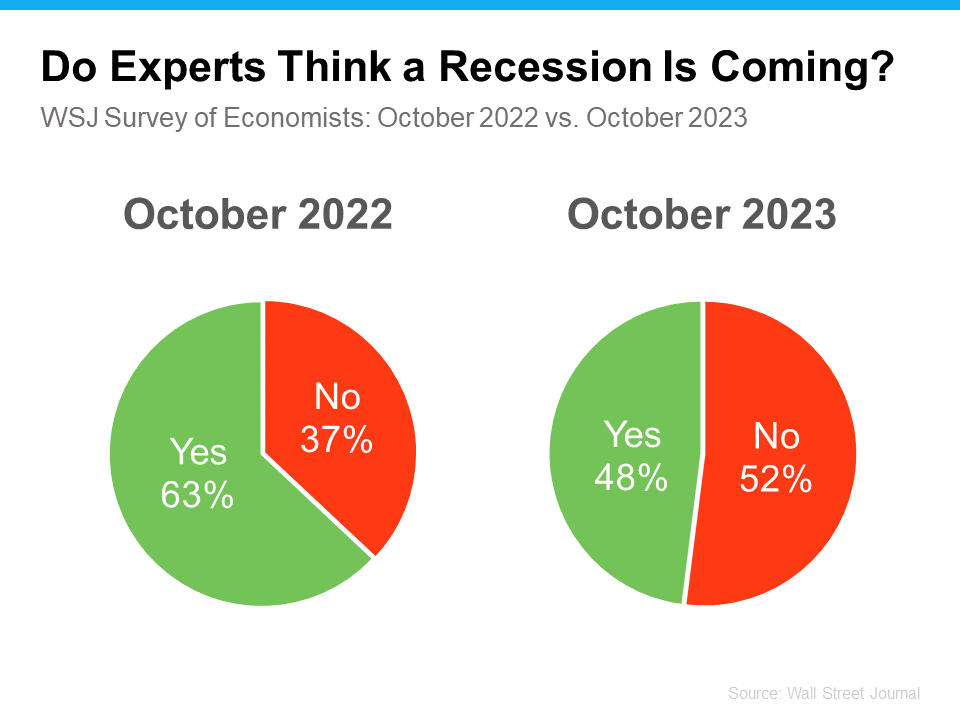 This is big news for the housing market. And while the 48% to 52% split may seem close to half and half, the key thing to focus on is that the majority of these experts think we've avoided a recession already.
Bottom Line
The big takeaway? The data shows there isn't cause for concern – there are actually more signs of hope. Reach out to a local real estate agent to talk more about the housing market questions on your mind heading into the new year. 
Why Homeowners Feel Thankful for Their Homes [INFOGRAPHIC]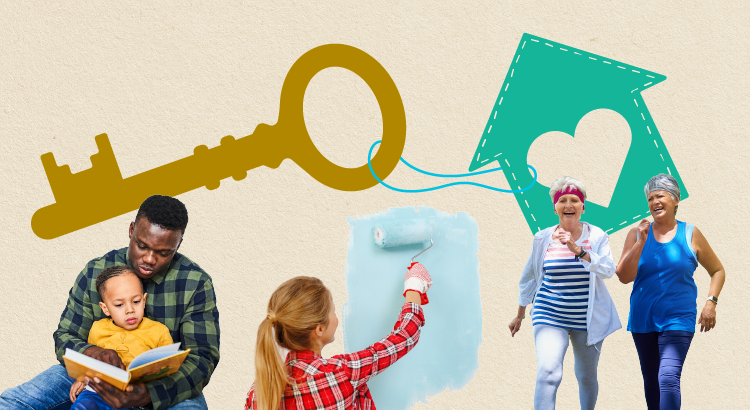 Some Highlights
Here are three reasons why homeowners feel thankful for their homes. First, it's a safe place that can give you a greater sense of comfort, safety, and security.
Second, it gives you freedom of expression. From the color of the paint to the art on the walls, you can express your style and your personality.
Third, it provides a sense of community. Owning your home helps you build lasting friendships with neighbors and connects you to your community. If you're thinking of buying a home and want to hear more about the potential benefits, talk with a local real estate agent.