Some Highlights
According to Lawrence Yun, Chief Economist at NAR, home prices are forecasted to rise.
Results from the Existing Home Sales Report note that home sales declined in March due to the coronavirus, but prices are still strong.
Let's connect so you can better understand your home's value today.
When You Sell Your House, Where Do You Plan To Go?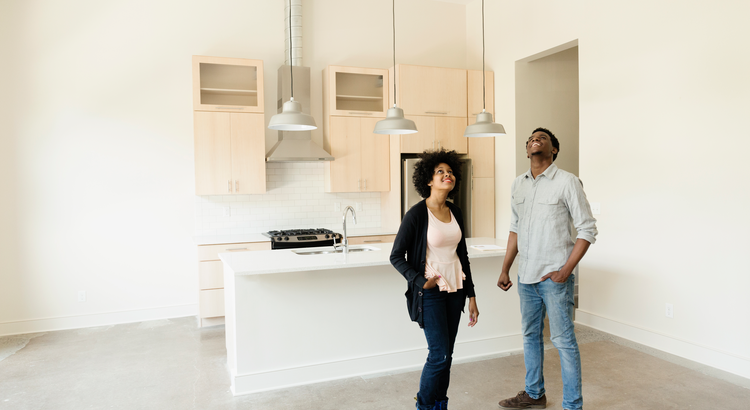 If you're thinking about selling your house, you may have heard the supply of homes for sale is still low, and that means your house should stand out to buyers who are craving more options. But you may also be wondering, once you sell, how does the current supply impact your own move? And, will you be able to find a home you want to buy with inventory this low?
One thing that can help you find your next home is exploring all your options, including both homes that have been lived in before as well as newly built ones. Let's look at the benefits of each one.
The Pros of Newly Built Homes
First, let's look at the advantages of purchasing a newly constructed home. With a brand-new home, you'll be able to:
Create your perfect home. If you build a home from the ground up, you'll have the option to select the custom features you want, including appliances, finishes, landscaping, layout, and more.
Cash-in on energy efficiency. When building a home, you can choose energy-efficient options to help lower your utility costs and reduce your carbon footprint.
Minimize the need for repairs. Many builders offer a warranty, so you'll have peace of mind on unlikely repairs. Plus, you won't have as many little projects to tackle.
Have brand new everything. Another perk of a new home is that nothing in the house is used. It's all brand new and uniquely yours from day one.
The Pros of Existing Homes
Now, let's compare that to the perks that come with buying an existing home. With a pre-existing home, you can:
Explore a wider variety of home styles and floorplans. With decades of homes to choose from, you'll have a broader range of floorplans and designs available.
Join an established neighborhood. Existing homes give you the option to get to know the neighborhood, community, or traffic patterns before you commit.
Enjoy mature trees and landscaping. Established neighborhoods also have more developed landscaping and trees, which can give you additional privacy and curb appeal.
Appreciate that lived-in charm. The character of older homes is hard to reproduce. If you value timeless craftsmanship or design elements, you may prefer an existing home.
The choice is yours. When you start your search for the perfect home, remember that you can go either route – you just need to decide which features and benefits are most important to you. As an article from The Mortgage Reports says:
"When building, you gain more freedom to tailor the design, materials, and features, but it demands more time and involvement. Conversely, buying an established home offers immediate occupancy . . . yet may require compromises. Your choice should align with your budget, timeline, customization preferences, and the local real estate landscape."
Either way, working with a local real estate agent throughout the process is mission-critical to your success. They'll help you explore all of your options based on what matters most to you in your next home. Together, you can find the home that's right for you.
Bottom Line
If you have questions about the options in your area, connect with a local real estate agent to discuss what's available and what's right for you. That way you'll be ready to make your next move with confidence.
Experts Project Home Prices Will Rise over the Next 5 Years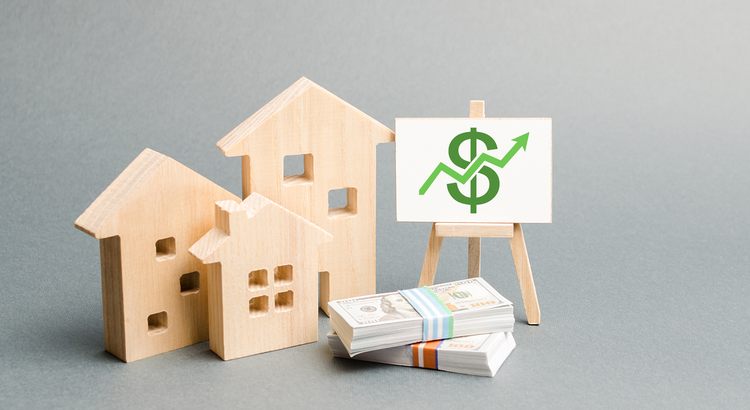 Even with so much data showing home prices are actually rising in most of the country, there are still a lot of people who worry there will be another price crash in the immediate future. In fact, a recent survey from Fannie Mae shows that 23% of consumers think prices will fall over the next 12 months. That's nearly one in four people who are dealing with that fear – maybe you're one of them.
To help ease that concern, here's what the experts say will happen with home prices not just next year, but over the next five years.
Experts Project Ongoing Appreciation
While seeing a small handful of expert opinions may not be enough to change your mind, hopefully, a larger group of experts will reassure you. Here's that larger group.
The Home Price Expectation Survey (HPES) from Pulsenomics is a great resource to show what experts forecast for home prices over a five-year period. It includes projections from over 100 economists, investment strategists, and housing market analysts. And the results from the latest quarterly release show home prices are expected to go up every year through 2027 (see graph below):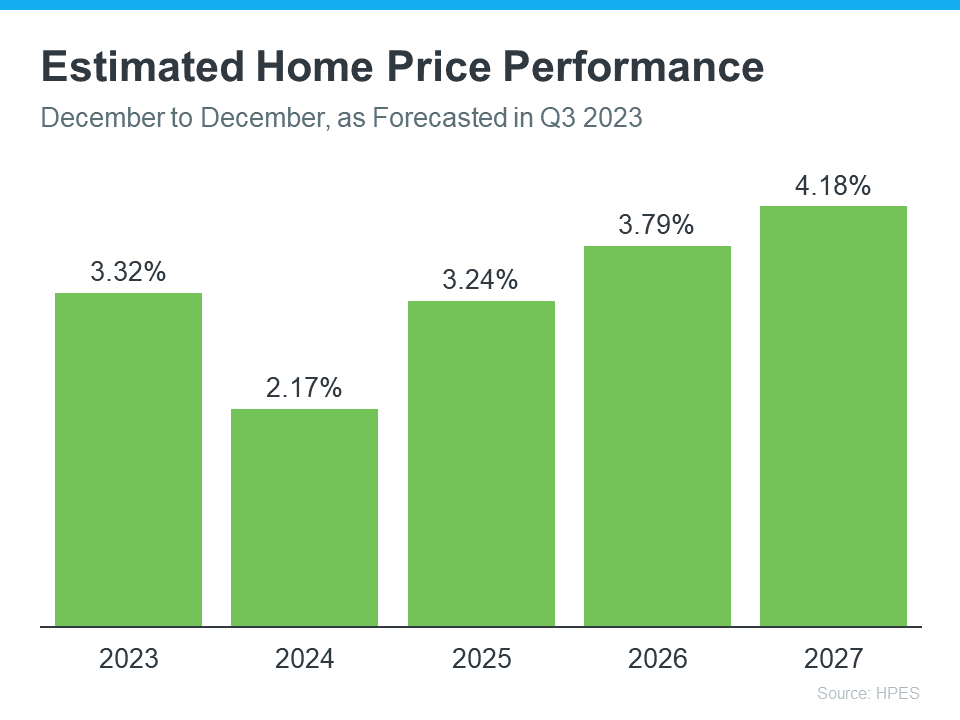 And while the projected increase in 2024 isn't as large as 2023, remember home price appreciation is cumulative. In other words, if these experts are correct after your home's value rises by 3.32% this year, it should go up by another 2.17% next year.
If you're worried home prices are going to fall, here's the big takeaway. Even though prices vary by local area, experts project they'll continue to rise across the country for years to come at a pace that's more normal for the market.
What Does This Mean for You?
If you're not convinced yet, maybe these numbers will get your attention. They show how a typical home's value could change over the next few years using the expert projections from the HPES. Check out the graph below: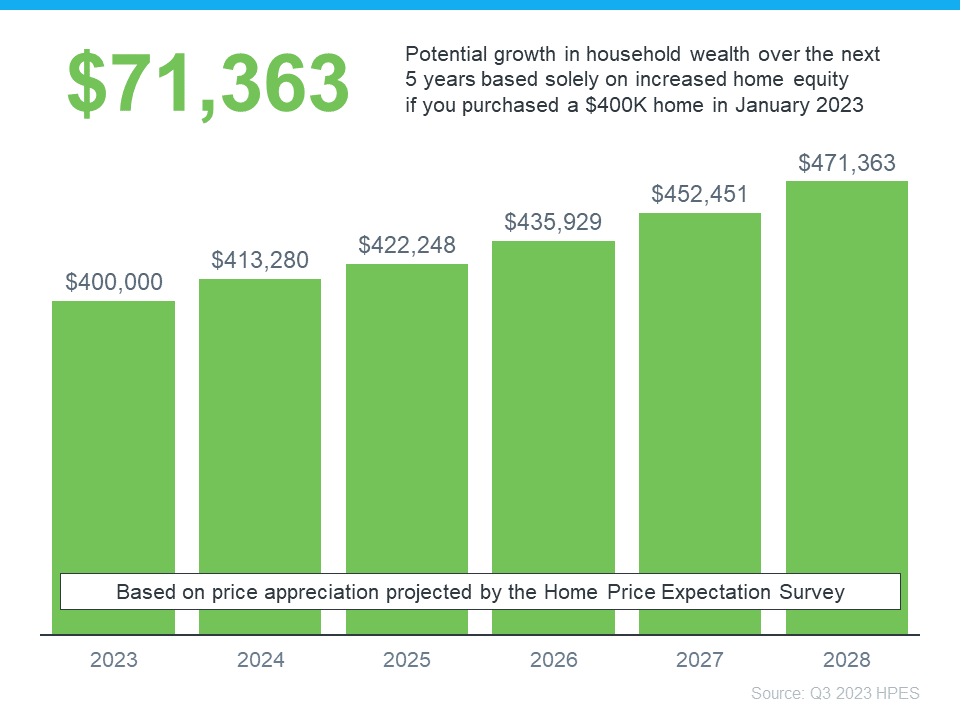 In this example, let's say you bought a $400,000 home at the beginning of this year. If you factor in the forecast from the HPES, you could potentially accumulate more than $71,000 in household wealth over the next five years.
Bottom Line
If you're someone who's worried home prices are going to fall, rest assured a lot of experts say it's just the opposite – nationally, home prices will continue to climb not just next year, but for years to come. If you have any questions or concerns about what's next for home prices in your local area, connect with a real estate agent.
3 Reasons To Sell Your House Before the New Year [INFOGRAPHIC]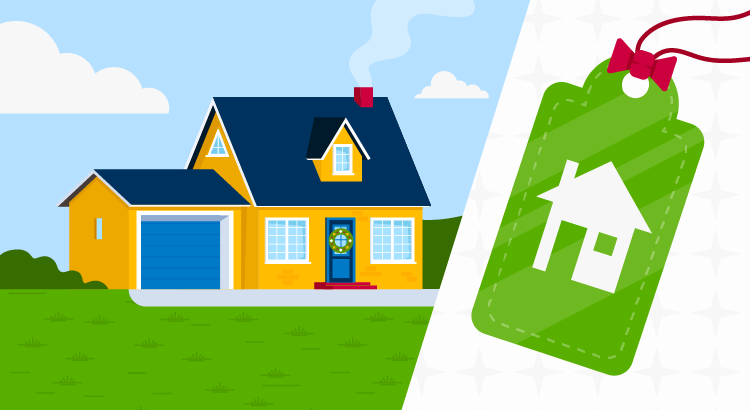 Some Highlights