For those embarking on the journey to buy a home this year, mortgage rates are likely a top-of-mind concern. It's no surprise since these rates have a significant impact on what you can afford when securing a home loan. In a housing market where affordability is a pressing issue, it's a good time to take a step back and analyze the broader historical context of mortgage rates in comparison to their present state. Furthermore, delving into their connection with inflation can provide valuable insights into the potential trajectory of mortgage rates in the near future.
Putting Sticker Shock into Perspective
Freddie Mac has been diligently tracking the 30-year fixed mortgage rate since April of 1971. On a weekly basis, they publish the results of their Primary Mortgage Market Survey, which amalgamates mortgage application data from lenders across the nation (refer to the graph below):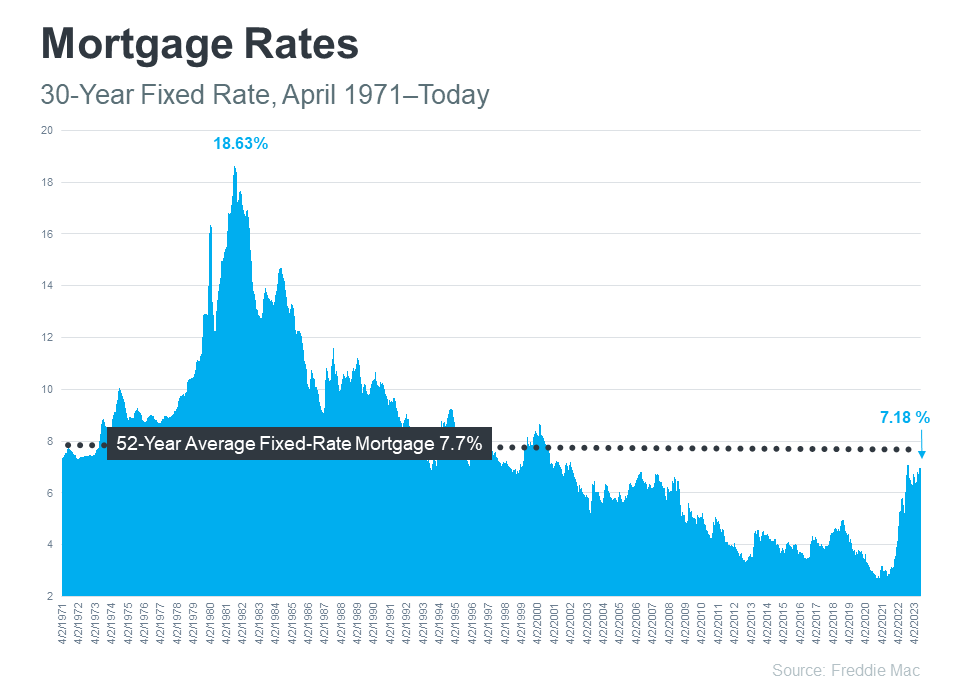 Examining the right side of the graph, it becomes apparent that mortgage rates have seen a notable increase since the onset of the previous year. However, even with this upswing, today's rates still linger below the 52-year average. While this historical context is informative, most homebuyers have grown accustomed to mortgage rates hovering between 3% and 5%—a range that has prevailed for the past 15 years.
This familiarity with lower rates elucidates why the recent surge might be causing sticker shock, even though rates are, by historical standards, near their long-term average. While many buyers have adapted to the higher rates that have persisted over the past year, a slight dip in rates would certainly be a welcome development. To ascertain the feasibility of this, it is crucial to factor in the variable of inflation.
Where Might Mortgage Rates Head in the Future?
The Federal Reserve has been diligently engaged in efforts to quell inflation since the early part of 2022. This holds significance because, historically, there has been a discernible link between inflation and mortgage rates (refer to the graph below):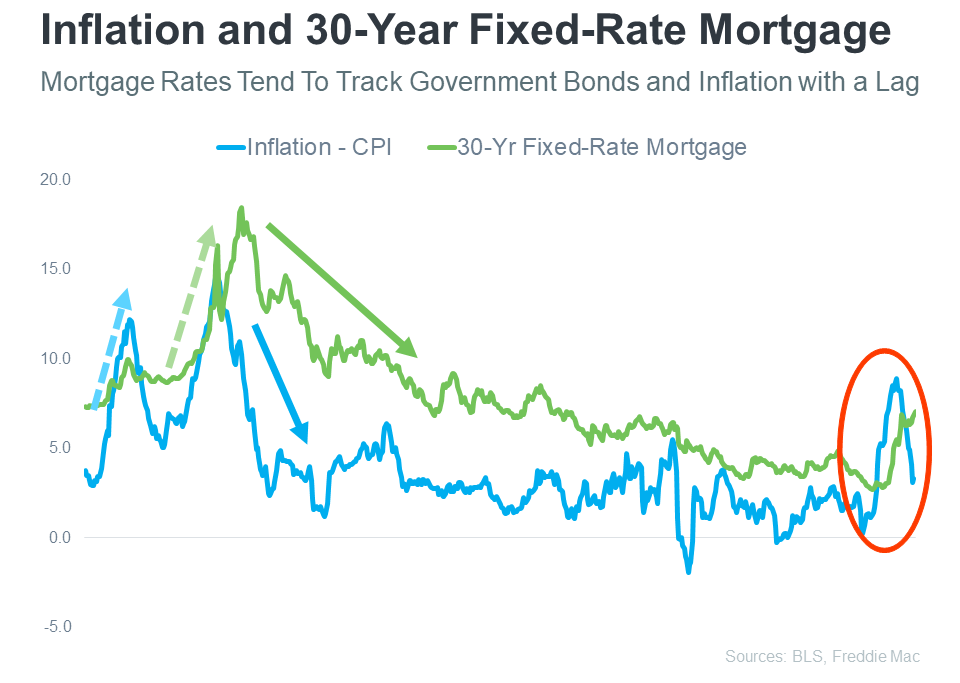 The graph vividly illustrates a fairly consistent relationship between inflation and mortgage rates. On the left side of the graph, each significant shift in inflation (highlighted in blue) is closely followed by a corresponding adjustment in mortgage rates (depicted in green).
The circled segment of the graph draws attention to the recent inflation surge, with mortgage rates showing a concurrent response. While inflation has shown signs of moderating somewhat this year, mortgage rates have not mirrored the same pattern.
Consequently, if history offers any guidance, it implies that the market is awaiting a scenario in which mortgage rates align with the trajectory of inflation and begin to recede. While it's impossible to make precise predictions regarding mortgage rates, the evidence suggests that moderating inflation could portend a forthcoming dip in mortgage rates, consistent with a well-established trend.
In Conclusion
In order to gauge the potential path of mortgage rates, it is instructive to examine their historical journey. There exists a clear, proven correlation between inflation and mortgage rates, and if this historical link remains valid, the recent moderation in inflation might bode well for the future of mortgage rates and your aspirations of homeownership.
Experts Project Home Prices Will Rise over the Next 5 Years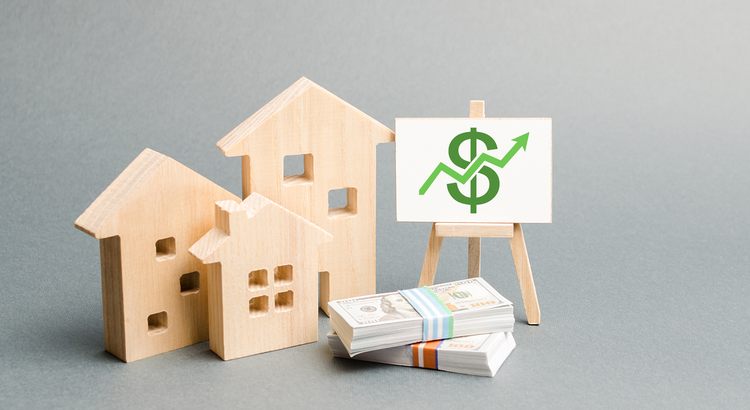 Even with so much data showing home prices are actually rising in most of the country, there are still a lot of people who worry there will be another price crash in the immediate future. In fact, a recent survey from Fannie Mae shows that 23% of consumers think prices will fall over the next 12 months. That's nearly one in four people who are dealing with that fear – maybe you're one of them.
To help ease that concern, here's what the experts say will happen with home prices not just next year, but over the next five years.
Experts Project Ongoing Appreciation
While seeing a small handful of expert opinions may not be enough to change your mind, hopefully, a larger group of experts will reassure you. Here's that larger group.
The Home Price Expectation Survey (HPES) from Pulsenomics is a great resource to show what experts forecast for home prices over a five-year period. It includes projections from over 100 economists, investment strategists, and housing market analysts. And the results from the latest quarterly release show home prices are expected to go up every year through 2027 (see graph below):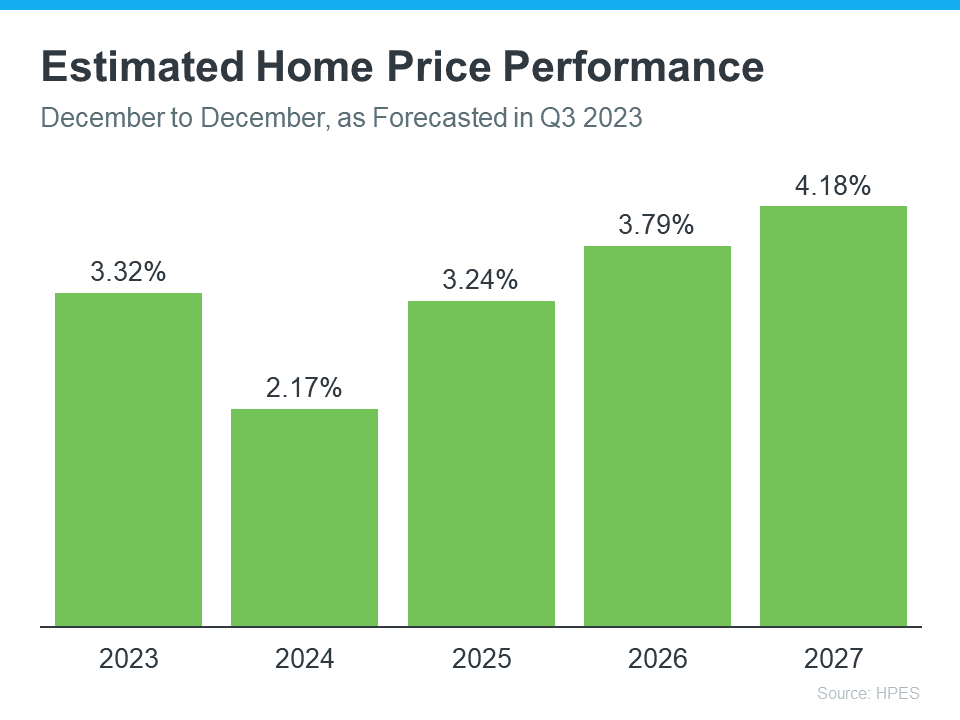 And while the projected increase in 2024 isn't as large as 2023, remember home price appreciation is cumulative. In other words, if these experts are correct after your home's value rises by 3.32% this year, it should go up by another 2.17% next year.
If you're worried home prices are going to fall, here's the big takeaway. Even though prices vary by local area, experts project they'll continue to rise across the country for years to come at a pace that's more normal for the market.
What Does This Mean for You?
If you're not convinced yet, maybe these numbers will get your attention. They show how a typical home's value could change over the next few years using the expert projections from the HPES. Check out the graph below: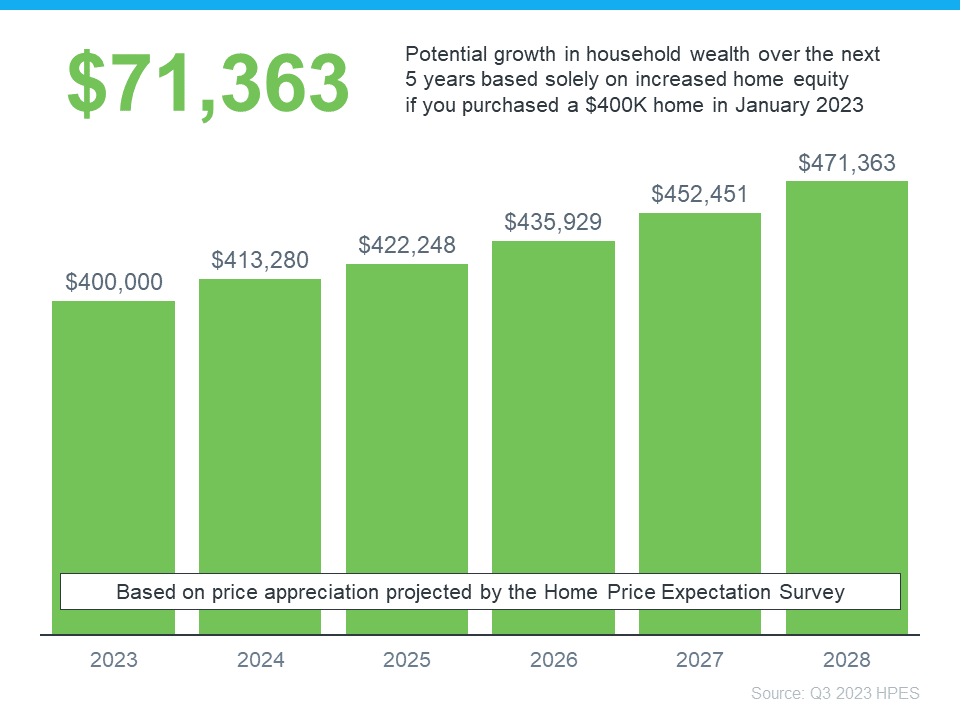 In this example, let's say you bought a $400,000 home at the beginning of this year. If you factor in the forecast from the HPES, you could potentially accumulate more than $71,000 in household wealth over the next five years.
Bottom Line
If you're someone who's worried home prices are going to fall, rest assured a lot of experts say it's just the opposite – nationally, home prices will continue to climb not just next year, but for years to come. If you have any questions or concerns about what's next for home prices in your local area, connect with a real estate agent.
3 Reasons To Sell Your House Before the New Year [INFOGRAPHIC]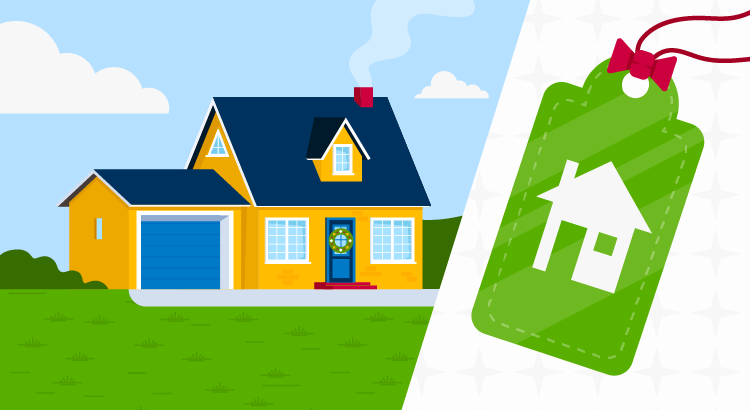 Some Highlights
Is Owning a Home Still the American Dream for Younger Buyers?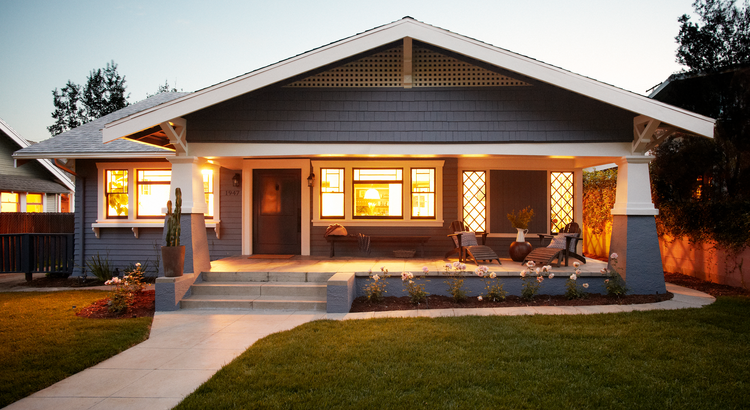 Everyone has their own idea of the American Dream, and it's different for each person. But, in a recent survey by Bankrate, people were asked about the achievements they believe represent the American Dream the most. The answers show that owning a home still claims the #1 spot for many Americans today (see graph below):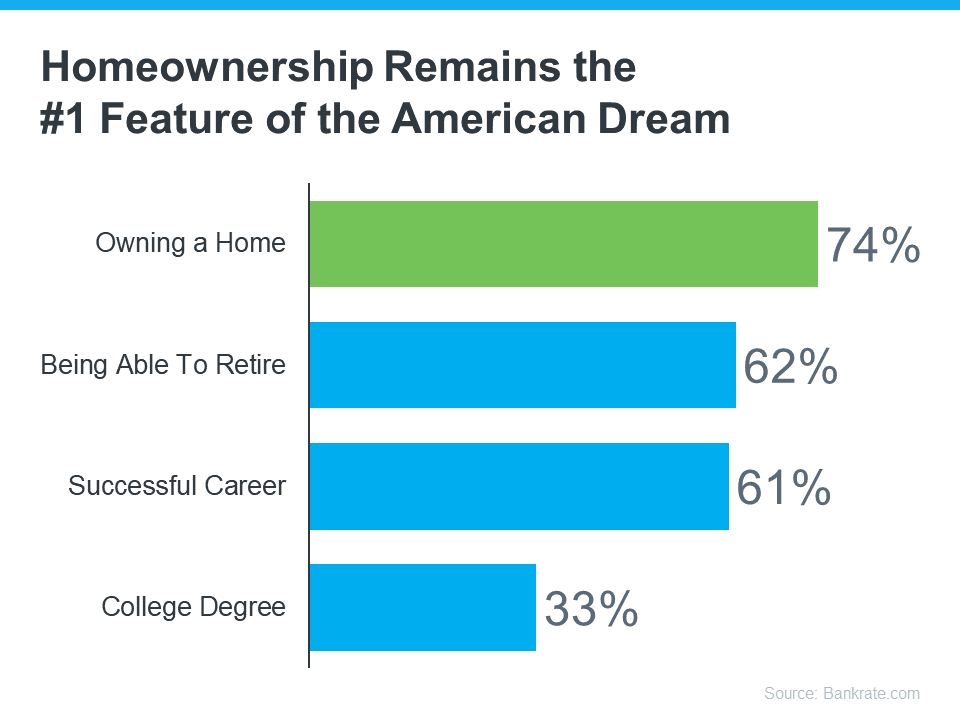 In fact, according to the graph, owning a home is more important to people than retiring, having a successful career, or even getting a college degree. But is the dream of homeownership still alive for younger generations?
A recent survey by 1000watt dives into how the two generations many people believed would be the renter generations (Gen Z and millennials) feel about homeownership. Specifically, it asks if they want to buy a home in the future. The resounding answer is yes (see graph below):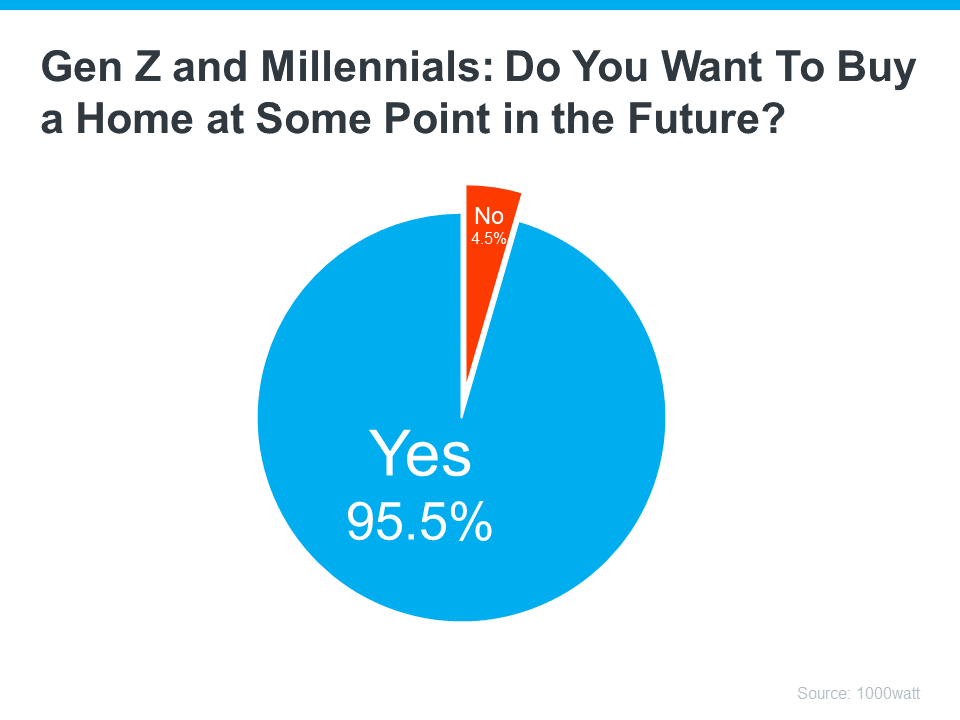 While there are plenty of reasons why someone might prefer homeownership to renting, the same 1000watt survey shows, that for 63% of Gen Z and millennials, it's that your place doesn't feel like "home" unless you own it – maybe you feel the same way.
That emotional draw is further emphasized when you look at the reasons why Gen Z and millennials want to become homeowners. For all the financial benefits homeownership provides, in most cases it's about the lifestyle or emotional benefits (see graph below):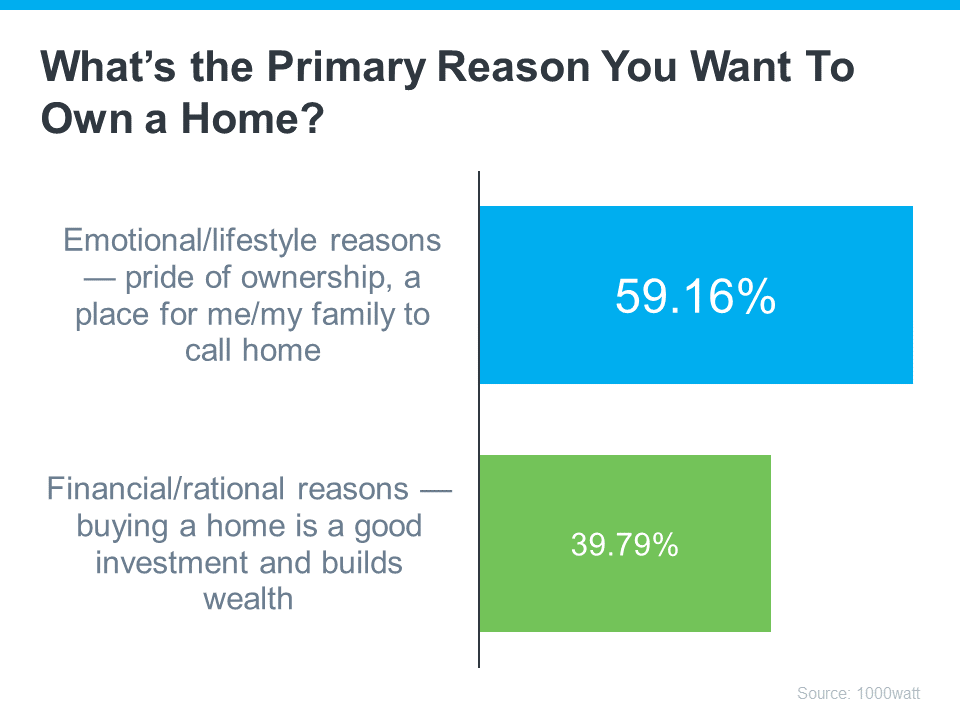 What Does This Mean for You?
If you're a part of Gen Z or are a millennial and you're ready, willing, and able to buy a home, you'll want a great real estate agent by your side. Their experience and expertise in the local housing market will help you overcome today's high mortgage rates, low inventory, and rising home prices to find your first home and turn your dream into a reality.
Working with a local real estate agent to find your dream home is the key to unlocking the American Dream.
Bottom Line
Buying a home is a big, important decision that represents the heart of the American Dream. If you want to accomplish your goal, begin by talking to a local real estate expert to start the process today.